Duffy Studios on Etsy
See The BraBall in Person!
The BraBall is Finished! A big THANK YOU!
Events & News - UPDATES
Photos of The BraBall - EVENTS/PHOTOS
Letters to The BraBall - LETTERS
Why The BraBall? - ARTIST'S STATEMENT
The Full BraBall Story - HERSTORY
BraBall Publicity - PRESS
BraBall Statistics - FACTS
Largest Donation - 2,700 BRAS!
BraBall Tees, Pins & Postcards - SHOP
Other Art by Emily Duffy - PORTFOLIO
Emily Duffy's Art Résumé - RÉSUMÉ
Cool Links - LINKS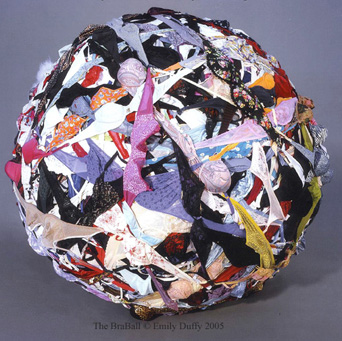 The BraBall, by Emily Duffy.
Photo by Sibila Savage.
The BraBall is dedicated to my
best friend Jessica, who is, among
many things, a breast-cancer survivor.